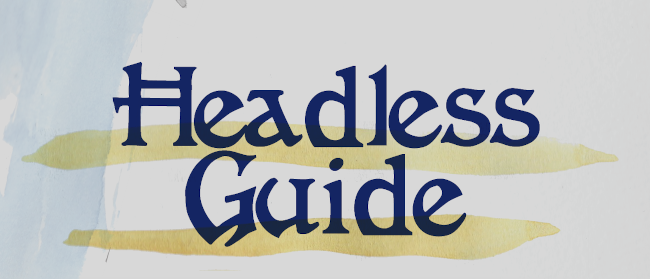 Author – Cat McDonald (@CatlingGun)
Where to Buy – https://peachgardengames.itch.io/headless-guide
After reviewing Light last week, I assumed it would be a while before I played another pseudo-nautical solo journaling game featuring real-world historical elements and a touch of the otherworldly. I mean, after all, what are the odds of finding two games with all those aspects so close together? And what are the odds of them being both different enough and good enough to warrant a review?
And then I found Headless Guide.
Headless Guide is a weird game. The theme is this – you're a treasure hunter wandering around coastal Nova Scotia in complete silence, guided by a ghost who can only be free if you find the buried pirate treasure they guard. Like I said, weird.
But also, oddly lovely. Physically, the game is beautiful. Each page is decorated with soft watercolor map elements that perfectly fit the melancholy atmosphere evoked by the writing prompts. The game itself is straightforward – twelve cards, including the Ace of Diamonds, are drawn from a shuffled deck and used to randomize which writing prompts you'll deal with over the course of the game. If you make it through all twelve, you win! There's a bit more to it than that but…you should really go buy this game to find out the rest.
The prompts feature some of the best writing I've seen in a solo journaling game, and drawing inspiration for my own writing was never a challenge. The prompts range from intimate ghostly happenings to the protagonist contemplating their place in a vast universe and yet, amazingly, there is no tonal whiplash from these disparate events. Every prompt, regardless of how unique from the ones that came before it, feels like a part of the whole. Everything works together holistically, and that comprehensiveness is part of the true magic of this game.
Headless Guide differentiates itself from other solo journaling games in another important way: it has built-in replay value. With most other games of this type, once you've played through the prompts, there's really no need to play it again. But this author is cleverer than most. By limiting each game to only 12 cards, chances are you could play several games without duplicating many of the prompts.
To further add to the replay value, players must choose one of four types of treasure hunters before beginning the game. The types of hunters are distinct and have their own stats and specialties. I played as a cautious miner but the story I told would have been very different had I selected the witch instead.
As I said earlier, Headless Guide is a weird game, but not just because of the odd thematic elements at play. It is also weird because of how wonderfully well-thought-out each singular element is and how, despite this, the whole game is still greater than the sum of its parts. Though I've been effusive in my praise of this game, perhaps this is the greatest compliment I can pay it:
I can't wait to play it again.
DISCLAIMER: I do not know anyone involved with this game, nor did I receive anything for free in exchange for this review. Also, if you want to get technical, this game didn't cost me $5. It actually retails for $6 but I bought it as part of an amazing bundle that will be live until March 2021. If you're interested in getting this game and many other solo games while also helping a worthwhile charity, head on over to https://itch.io/b/770/solo-but-not-alone.